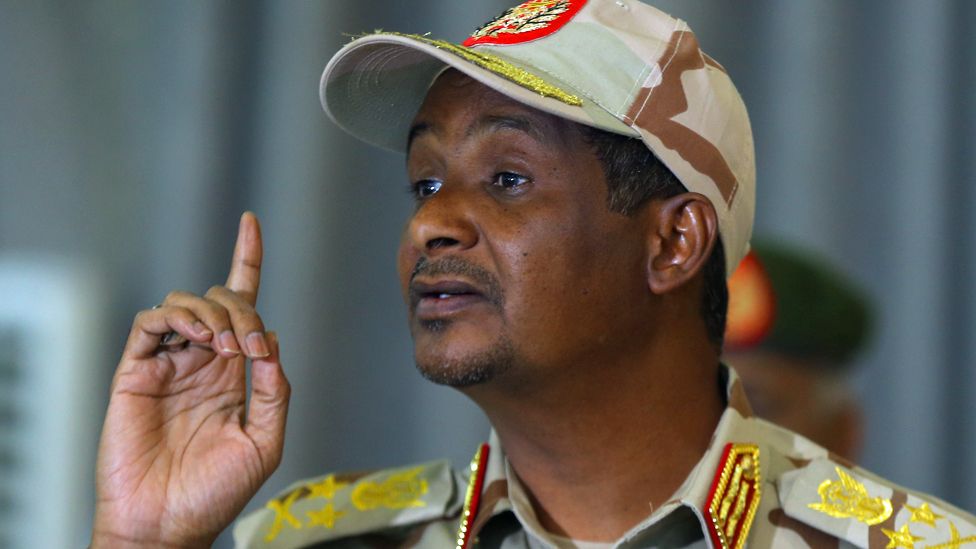 One of Sudan's duelling generals, who leads the paramilitary force fighting the country's army, has told the BBC he will not negotiate until fighting ends.
But Gen Mohamed Hamdan Dagalo, better known as Hemedti, said his fighters were being "relentlessly" bombed since a three-day truce had been extended.
"We don't want to destroy Sudan," he said, blaming army chief Gen Abdel Fattah al-Burhan for the violence.
Gen Burhan has tentatively agreed to face-to-face talks in South Sudan.
Thursday night's extension of an uneasy ceasefire followed intensive diplomatic efforts by neighbouring countries, as well as the US, UK and UN.
Speaking to the BBC by phone, Hemedti said he was open to talks but the condition was that the ceasefire should hold: "Cease hostilities. After that we can have negotiations."
He said he had no personal problem with Gen Burhan, but regarded him as a traitor for bringing into government those loyal to former President Omar al-Bashir, who was ousted by the army and RSF together in 2019 after mass street protests.
Bashir's regime – in power for three decades – was known for its Islamist ideology and imposition of a strict version of Sharia (Islamic law).
"Unfortunately Burhan is being led by the radical Islamic front leaders," Hemedti said.
In 2021, he and Gen Burhan overturned an agreement to share power with civilians, taking full control in a coup.
They fell out this year over the proposed return to civilian rule, in particular about the timeframe of incorporating Hemedti's 100,000-strong Rapid Support Force's (RSF) inclusion into the army.
"I am looking forward to having the civilian government today – before tomorrow, a fully civilian government. This is my principle," Hemedti told the BBC.
This is not the first time the RSF leader has spoken of his commitment to democracy, although analysts point out that his forces have brutally put down civilian protests in the past.