A photo went viral after a picture was taken during a high school football game in North Carolina. Although one player thought all eyes were on his injured teammate lying on the field, little did he know someone saw what he was doing and decided to snap a photo.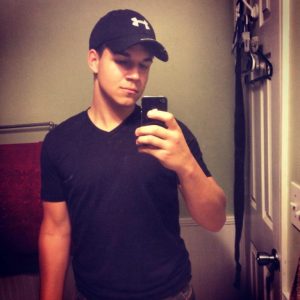 The incident took place during a Northeast Guilford High School football game. Grayson Bonomo was preparing to punt, but the snap was high. He attempted to get the first down, making his way toward the sideline, but a player on the opposing team ran into him. The two players made helmet to helmet contact, and Bonomo was momentarily knocked unconscious.
As medics worked on Grayson, his teammate, Dillon Goedeck, moved away from the rest of the team to an area where he could be alone. "I'm in disbelief that my best friend has been hurt," Dillon recalled thinking. "I take a step to collect myself and I go and take a knee and I pray — praying for his safety and for his health and that he'll recover quickly," he continued.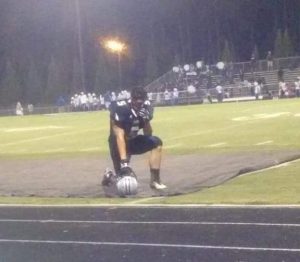 While nearly all eyes were fixed on Grayson Bonomo as he was being tended to by medical professionals, a parent in the stands took a picture of the moment Dillon knelt to pray. Grayson's mother, Colleen Siler, posted the picture (above) to the FOX8 Facebook page after receiving it.
The Facebook post stated, "This photo was taken at the North East Guilford football game. It was sent to me while my son was in the ER. #5 Dillon Micheal Goedeck was praying for my son #38 Grayson Bonomo who was injured during the game. This is something every parent should be proud of. I don't know who took the photo but I want to say thank you. This is newsworthy…..this is how our children should handle things when they have no control over the situation. Thank you again to whoever you are!!!"]
"I know prayer works, and I know Dillon took his time and he was asking God to help him. From that, hundreds and thousands of people did too," Colleen Siler said. And, her son, Grayson, felt an instant rush of emotion knowing that his best friend was actually praying for him.
Since being posted, the image has been liked and shared by thousands of people. Support for the photo and its message has been staggering, to say the least, with many social media users saying they'd like to see more of this during school functions. "So glad we have kids who are not ashamed of their faith," one person wrote in the comments. "I am so proud to see these young men pray in public," another added.
After the outpouring of support, Colleen Siler said, "I want to say thank you to everyone who has taken a minute to like or comment. I never expected this to happen. Our kids are a gift from God. The way they handle their troubles shows what kind of men they will become. I've had the pleasure of knowing Dillon for many years. It's like a great big family with many arms reaching out. Grayson and Dillon have been there for each other thru many things and their friendship is a blessing. I love you guys. I call you my adopted kids just as his mom calls mine the same. Jennifer Welker Lipford should be proud of her young man. She's done a great job raising him!"
We need to see more people like Dillon Goedeck. This young man wasn't afraid to put his faith on full display when his friend needed the power of prayer. His mother did an awesome job teaching him about life, love, and God, and she should be very proud.